This gluten-free zucchini loaf offers the richness of coconut flour and nutritious zucchini for an energetic early morning start.


This summer squash is a great way to add the nutritious veggies in your breakfast without even knowing it. Zucchini is low on calories and high on antioxidants, potassium and Vitamin A. What else does one want! They are available year round at most supermarkets and are a great addition to curries, stews or in the form of raw noodles.
This recipe uses an egg-replacer instead of eggs thereby making it a safe option for vegans and vegetarians. We have replaced regular flour with coconut flour which is high in fiber, proteins and healthy fats. It contains no grains at all unlike other flour, and is simply made from grinding coconut into a powder form.
Coconut is a tropical fruit and excellent for body metabolism, digestive health and in maintaining blood sugar levels.


Makes one loaf. Fours to six servings.
Ingredients
Instructions
Set the oven to pre-heat mode at 180°C while your prepare the batter.
Peel and chop Zucchini to very fine shreds. Put these shredded pieces in a muslin cloth, fold it and squeeze to drain out as much water as possible.
Mix Pomegranate and lemon juice and put aside for 5 minutes.
Take some additional coconut oil and coat the inner side of the pan which is to be used for making the loaf. Before greasing, it is advisable to heat the pan in the oven for about 30 seconds and let it cool for a bit.
Mix the Ener-G egg replacer powder with water to make a paste of even consistency
Add coconut oil, honey and mashed banana in a bowl to the egg-replacer paste and stir well to achieve a thick consistency.
In a separate bowl, mix shredded zucchini with baking soda, sea salt, coconut flour, cinnamon, nutmeg and then add the egg replacer paste containing coconut oil, honey and mashed banana.
Pour lemon-pomegranate juice blend into this batter and whisk it thoroughly till it forms into a lump-free, smooth batter.
Finally add the chopped almonds and mix once more.
Pour this batter into the greased loaf pan and put it in the heated oven for 40 minutes to bake. For a crisper loaf, increase the baking time to 50 minutes.
Use a fork to check if the interior is cooked well.
Once baked, let it cool down for a while and then slice it with a bread knife.
Zucchini loaf serves well with peanut butter. You can even use it for sandwiches or just have it plain with tea or coffee.

SOME OF THE INGREDIENTS NEEDED TO PREPARE THIS RECIPE ARE AVAILABLE AT AMAZON.COM:
End of the recipe. Enjoy your meal!

Receive all my brand new recipes directly into your email inbox to save your precious time!
Simply click here to join my free VIP club (limited time offer!). As a VIP member, you will be notified about my latest hot recipes + you will get unlimited access to  awesome resources and discounts exclusive for my VIP members only!
BONUS:

 If you join today, you will get free instant access to my guilt-free recipe eBook "Gluten-Free Desserts" (No credit card is required).
Summary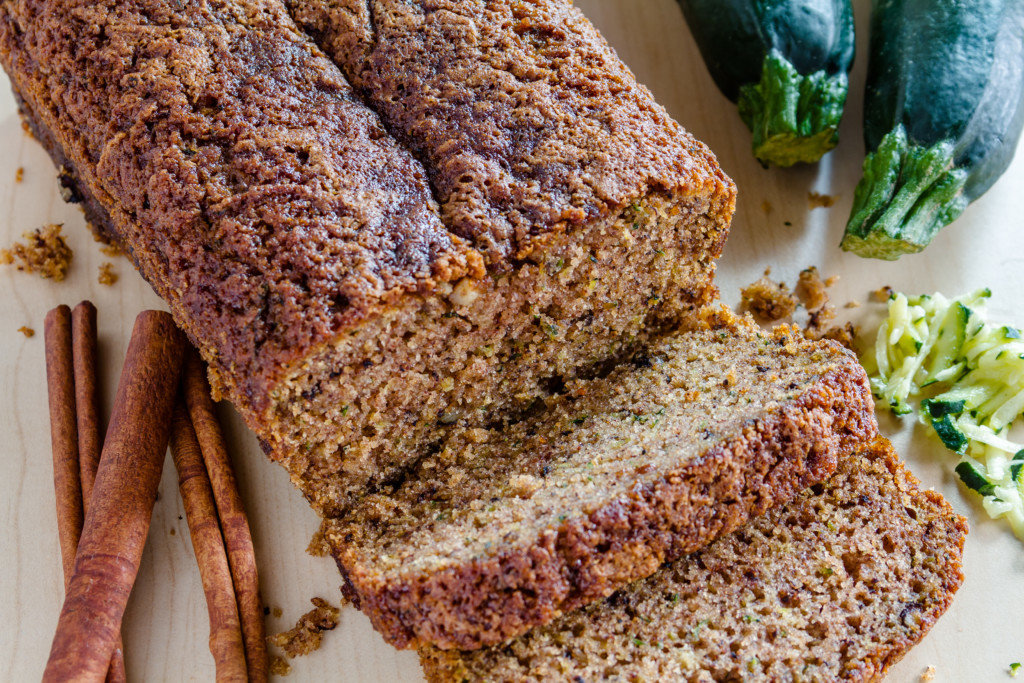 Recipe Name
Gluten-free Zucchini Loaf for Vegetarians
By
Published On
Preparation Time
Cook Time
Total Time
Average Rating





Based on 2 Review(s)