This lightly fried, gluten-free, protein-rich & vegan chickpea pancakes recipe is mildly flavoured with Indian spices to brighten your day!
This is a gluten-free recipe that is an Indian favourite for breakfast or light snack during the day. Chick-pea flour is a popular ingredient in the dry regions of India and is used abundantly in cooking curries and flatbreads or chickpea pancakes. It is packed with proteins and carbs along with fiber. "Besan" as it is commonly known in India, is also packed with unsaturated healthy fats that help lower cholesterol. It is light yellow in color and ground to a flour like consistency. Besan is a good binding agent often used in fritters and patties in India.
The best part about this recipe is that you can add finely chopped veggies like spinach, beetroot leaves, beans, cauliflower or shredded zucchini and it will just taste equally delicious.
Makes four pancakes. Serves two people. 
Ingredients
Instructions
Put half cup chick pea flour in a mixing bowl. Add salt and all the dry powder ingredients: cumin powder, coriander powder, turmeric, pepper and dried mango powder into the flour and mix well.
Add water to make to this mixture and begin whisking with a wire whisk to make it into a smooth batter. If too thick, feel free to add a tablespoon or two of water. Make sure to break any lumps as you whisk it into smooth consistency that will spread easily in pan.
Finally, add chopped onions and coriander leaves into this batter and let it sit for a while.
Set a medium frying pan or a crêpe pan or a skillet and gently grease with the oil.
Pour a ladle full of chickpea batter on the pan or skillet and let it cook on medium heat for 2 minutes. At the end of two minutes, slide a flat spatula beneath the pancake to check if it is cooked.
Once the batter firms up into a pancake,  gently flip the bottom up and add some oil around the sides.
Let it cook until both sides turn a sunny golden and the pancake is firm. If required, flip the bottom again.
Remove the pancake from the skillet and serve warm. It is normally accompanied by coriander chutney or tomato ketchup. Many people eat it with daal or dry legume curry or vegetarian curries.
SOME OF THE INGREDIENTS NEEDED TO PREPARE THIS RECIPE ARE AVAILABLE AT AMAZON.COM:
End of the recipe. Enjoy your meal!

Receive all my brand new recipes directly into your email inbox to save your precious time!
Simply click here to join my free VIP club (limited time offer!). As a VIP member, you will be notified about my latest hot recipes + you will get unlimited access to  awesome resources and discounts exclusive for my VIP members only!
BONUS:

 If you join today, you will get free instant access to my guilt-free recipe eBook "Gluten-Free Desserts" (No credit card is required).
Summary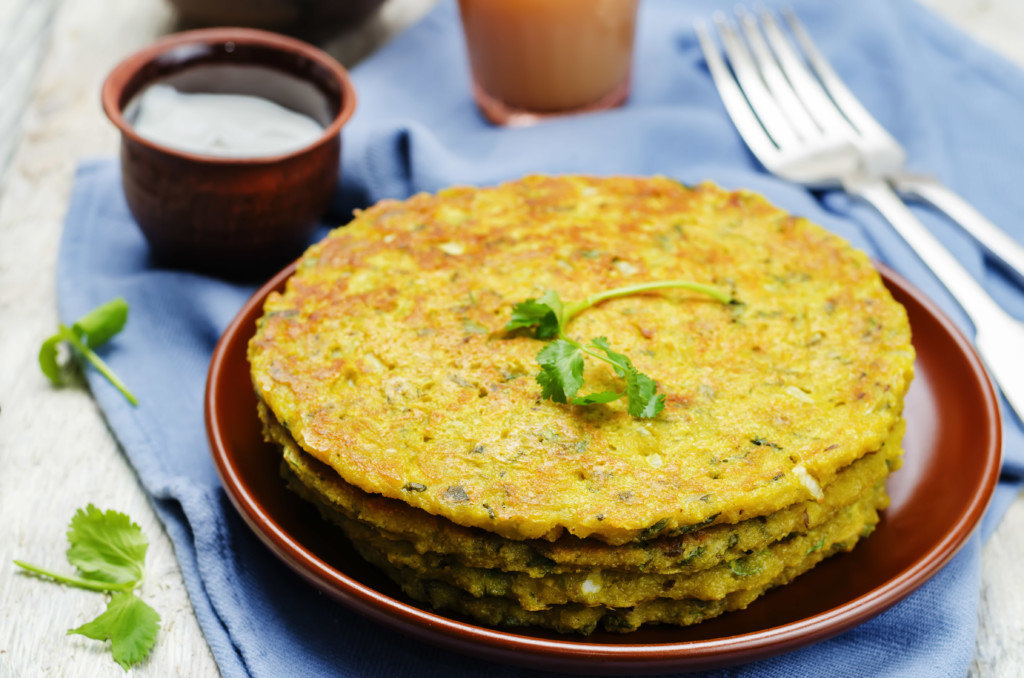 Recipe Name
Chick Pea Pancakes for Breakfast
By
Published On
Preparation Time
Cook Time
Total Time
Average Rating





Based on 2 Review(s)