High-fiber, crunchy nutritious kale patties with salad and gluten-free buns.
Kale and Quinoa are known superfoods with great flexibility to be combined with so many other ingredients and turn into great recipes. For vegetarians and vegans, these two foods are a blessing.
What makes Kale a super-favorite and one of the healthiest foods for weight loss programs is that it has zero fat, barely any calories and yet so many vitamins and minerals along with fiber to offer to the busy bees on the run. On the other hand, quinoa is high in protein, fiber, iron, nine amino acids and so many minerals. It has been grown for thousands of years and has been a staple diet of South Americans. Most recently, it has been given the superfood status and has become increasingly popular in North America too. You can find three kinds of quinoa in stores: red, black and white.
We have combined quinoa with kale in this recipe – it's like you just can't go wrong with nutrition, flavor and caloric intake and on top of it, a super-satisfying crunchy mid-day meal if you eat it with gluten-free buns.
Makes six patties. Serves two people.
Ingredients
These patties can be eaten as a snack by themselves but are best combined with gluten-free buns or a cesar salad to make into a delicious and filling lunch.
Instructions
A.  Preparing Quinoa:
Turn the full cup of quinoa into a micro-perforated colander or a steel mesh and let it run under water for a minute or more until the water beneath it runs clear.
Bring two cups of water to boil in a pot and add quinoa and salt into it. Cover the pot with a lid and let it cook for 5 minutes on medium heat.
After 5 minutes, reduce the heat to low and cook for another 10 minutes.
After 10 minutes, check to see if the quinoa is soft enough and the water has been absorbed. If not, let it cook on low heat for a few more minutes until soft. Be careful not to overcook it.
Once cooked, remove from heat, uncover it and fluff it gently with a fork. Let it cool.
B. Preparing Quinoa patties:
In a large bowl, turn in boiled and peeled potato, chopped onions, kale and mint leaves, coriander and cumin powder and pepper.
Mash potato and mix well with the other ingredients.
Turn in cooked quinoa and mix to make it into a firm mixture. Mashed potatoes will help it all bind.
Roll a little mixture into your hand to make half-inch thick medium-sized patties. This mixture should give you six patties. Keep them aside
Warm up a frying pan on medium heat and pour two tablespoons of coconut oil.
When the oil has heated up well, gently saute the patties, one or two at a time, depending upon the size of your pan.
Saute one side on medium flame for at least one minute and then flip on the other side. Take them off the heat once they are golden brown in color. Patties must be firm once done so they don't break off while serving.
Serve patties with buns and/or salad on the side.
A dash of tahini, sour cream, or tomato ketchup can also be served on the side to enhance the flavor.
SOME OF THE INGREDIENTS NEEDED TO PREPARE THIS RECIPE ARE AVAILABLE AT AMAZON.COM:
End of the recipe. Enjoy your meal!

Receive all my brand new recipes directly into your email inbox to save your precious time!
Simply click here to join my free VIP club (limited time offer!). As a VIP member, you will be notified about my latest hot recipes + you will get unlimited access to awesome resources and discounts exclusive for my VIP members only!
BONUS:

If you join today, you will get free instant access to my guilt-free recipe eBook "Gluten-Free Desserts" (No credit card is required).
Summary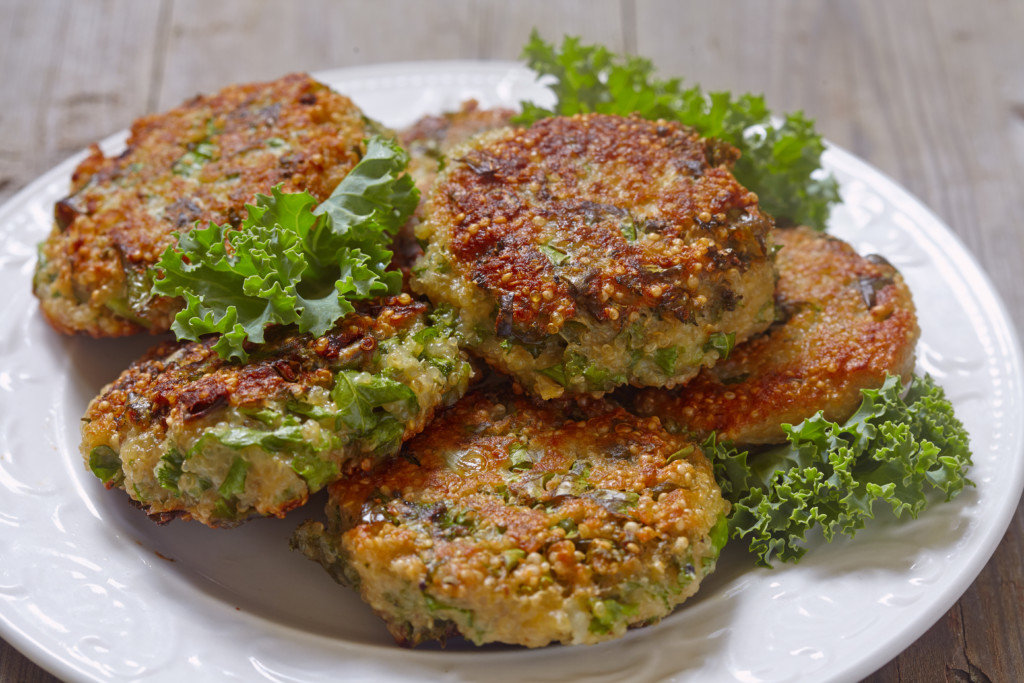 Recipe Name
Gluten-Free Quinoa & Kale Patties
By
Published On
Preparation Time
Cook Time
Total Time
Average Rating





Based on 4 Review(s)