This simple yet delicious oriental cuisine in a vegan & gluten-free sushi combines the goodness of cucumber and avocado and is a perfect meal for vegans.

Traditional Sushi rolls have always had tuna and salmon but sometime in the 60s when a chef decided to experiment with "the creamy vegetable" Avocado, to replace tuna, little did he know that this would become a North American vegetarian's delight.

Avocado is native to South Central Mexico and gradually traveled to other Spanish speaking countries. It is in itself a rich and satiating fruit while many cultures still consider it a vegetable. It is high in calories because of the saturated fats but very popular as a mid-day snack. Because of high vitamin and mineral content, this fruit is a great choice to be added in meals or eaten as a snack.

Today Avocado sushi rolls or avocado-cucumber sushi rolls have gained popularity in Japan as well as most of the North American cities. Avocado- Cucumber Sushi Rolls are also popularly known as the Californian rolls and are low on calorie but high on nutrition.

Makes four rolls. Serves two people.
Ingredients
Japonica rice: 1 cup (you can substitute with Jasmine or Basmati rice but not advisable). Recommended Product: Nishiki Premium Rice, Medium Grain, 15-Pound Bag
 Water: 2 cups ( to cook rice)
Cucumber: 2 long pieces
 Avocado: ¼ cup firm avocado diced into médium-sized chunks
Green salad: a few leaves – washed and dried
Nori: 4 sheets (Sea weed)
Wasabi: 2 tbsp. Recommended Product: S & B Wasabi Paste 90g
Soy Sauce: 4 tbsp
 Pickled ginger: 10 pieces
 Sushi Vinegar: ¼ cup
Salt: ½ tsp
One thing to remember about making sushi is the celebrated culture of artistic presentation of food in Japanese cuisine. The ingredients stuffed in nori wrap must be placed delicately so as not to squish them, and that they look appetizing when cut into slices.

Instructions
Preparing Sticky Rice
Measure the rice carefully and strain it in a colander or strainer under running water for a minute or two until the water runs clear underneath the rice.
Leave the wet rice in a colander for 30 minutes while you can get your veggies ready.
The veggies must be sliced or diced thinly as shown in the picture. And, you can always substitute cucumber with carrots or bell pepper. However, the original recipe calls for cucumber.
Later, remove the extra water and cook the rice in a rice cooker or pot.
Cooking in Rice cooker:
For the rice cooker, add the desired amount of water as per instructions and let it cook until the cooker switched off automatically.
Cooking in a pot
If cooking in a pot, add  two cups of water and salt, and let it boil. Once the water reaches boiling temperature, turn in the soaked rice and cover the pot with a lid.
Let it boil on high heat for one minute, then cook on medium heat for 7-8 minutes until you can see most of the water has been evaporated.
Now lower the heat to minimum and let it cook for another few minutes until you can smell the aroma of cooked rice. The cooked rice should look softer and with no trace of water.
Let it stay in there for a while and absorb the rest of the moisture.
After 10 minutes turn the hot rice into another bowl and add vinegar to it. Mix it well and fast with a spatula, making sure not to squish the rice. Cover it with a plastic wrap and let it sit for a while. This should now turn out to be the perfect sushi rice- warm and sticky.
Preparing Sushi Rolls
Take kitchen towel and fold it into half on the preparation table or counter.
Put a layer of plastic wrap on it and then lay one nori sheet.
Wet your hands and spread a thin layer of sticky rice. Wetting your hands makes sure the rice doesn't stick to your hands.
Arrange a sheet of green salad, diced avocado and a thinly-cut piece of cucumber on the rice bed. The veggies must be thin and small in size.
Gently start rolling the nori sheet and rice over your fingers and making sure that it all stays intact and that the veggies are artistically arranged.
Once the roll is done, cover it with the plastic wrap and towel making sure it stays moist. Follow suite with the rest of the rice and veggies using up all the four nori sheets.
Leave the four rolls for 10 minutes aside. It will allow the rice and veggies to bind together well with the nori sheet on the outside. Slice it with a long sushi knife into small pieces.
Serve your vegan & gluten-free Sushi pieces with wasabi, soy sauce and pickled ginger.
SOME OF THE INGREDIENTS NEEDED TO PREPARE THIS RECIPE ARE AVAILABLE AT AMAZON.COM:
End of the recipe. Enjoy your meal!

Receive all my brand new recipes directly into your email inbox to save your precious time!
Simply click here to join my free VIP club (limited time offer!). As a VIP member, you will be notified about my latest hot recipes + you will get unlimited access to  awesome resources and discounts exclusive for my VIP members only!
BONUS:

 If you join today, you will get free instant access to my guilt-free recipe eBook "Gluten-Free Desserts" (No credit card is required).
Summary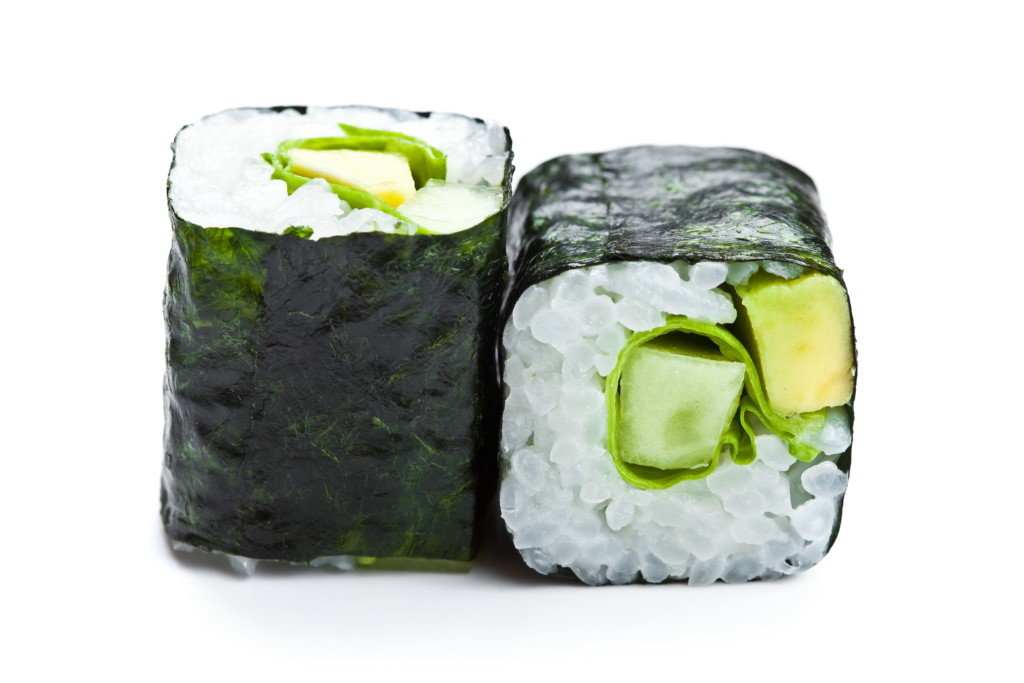 Recipe Name
Bite-Sized Gluten-Free Sushi For Vegetarians
By
Published On
Preparation Time
Cook Time
Total Time
Average Rating





Based on 4 Review(s)