I have turned this classic French side dish into a gluten-free, healthy, vegetarian meal in itself by adding more veggies to the original recipe. Enjoy!


Gratin is a popular term used in French cuisine to describe a medley of vegetables or meat with cheese and cream that is baked to fine golden crust on top. This crust is mostly accomplished with the use of cheese, breadcrumbs or some sauce. It is mostly served in the dish in which it is baked so that the delectable crust can stay as it is.
Potatoes are the most popular choice for baking gratin and often complemented by vegetables like cauliflower, carrots or spinach. We have adapted this recipe to a gluten-free meal by adding a few nutritious vegetables and replacing whole purpose flour in the béchamel sauce to sorghum or corn flour. Broccoli is an excellent source of vitamins, minerals and cancer-fighting antioxidants. You can add carrots or cauliflowers instead of broccoli and French beans based on your liking and availability. We also recommend using only olive oil in this dish to enhance the French flavours and at the same time, minimizing the use of unhealthy cooking oils.


Serves two people
Ingredients
A. For the sauce:
B. For the gratin:
(Gluten-free garlic bread or buns are optional)
Instructions
A. Preparing the béchamel sauce:
Take a small size pan and put it on slow heat
Wash basil leaves and keep the aside.
Add one tbsp. of olive oil and let it warm up
Add one tbsp. of gluten-free sorghum flour or corn flour and sauter it in the oil.
Add milk followed by cream and keep stirring it so to avoid any lumps in the sauce.
Add fresh basil leaves, dried thyme, garlic powder, salt and pepper.
Keep stirring while you add ¼ cup of cheddar cheese and let it melt completely.
This should look more like gooey thick and rich sauce.
Remove the pan from the heat and keep it aside.
B. Preparing Gratin:
Set the oven to Preheat mode at 200°C.
Meanwhile, peel potatoes and slice them into half inch thick slices. Let them steam for 15 minutes.
Wash and cut broccoli head into medium- sized florets.
Wash and chop the ends of French beans.
Rinse peas and add them along with broccoli florets and beans into the steamer for 5 minutes.
Take an 8" x 8" baking dish and run one tbsp. of olive oil all over the dish to grease it.
Bring the veggies out of the steamer making sure they are slightly tender.
Lay out the potato slices followed by a coating of the prepared sauce.
Add to this the French beans and then another layer of potato slices, followed by green pepper and the broccoli florets.
Pour the rest of the creamy béchamel sauce all over the dish making sure that all the veggies are coated with the sauce.
Finally, add a layer of shredded cheddar cheese covering the entire top of the dish.
Cover it with a foil and let it bake for 20 minutes.
Bring the dish out of the oven after 20 minutes and gently remove the foil. The cheese must be melted and bubbly by now.
Insert a fork to check if the veggies are tender.
If they are tender and cooked, remove the foil, sprinkle the parmesan cheese and return to the oven for another 5-7 minutes until the cheesy top turns into a fine golden crust.
Remove from the oven and sprinkle finely chopped parsley.

Voila! Your French gratin aux pommes de terre is ready to eat with toasted garlic bread, buns or a French baguette!

THESE GLUTEN-FREE INGREDIENTS NEEDED TO PREPARE THIS RECIPE ARE AVAILABLE AT AMAZON.COM:
End of the recipe. Enjoy your meal!

Receive all my brand new recipes directly into your email inbox to save your precious time!
Simply click here to join my free VIP club (limited time offer!). As a VIP member, you will be notified about my latest hot recipes + you will get unlimited access to  awesome resources and discounts exclusive for my VIP members only!
BONUS:

 If you join today, you will get free instant access to my guilt-free recipe eBook "Gluten-Free Desserts" (No credit card is required).
Summary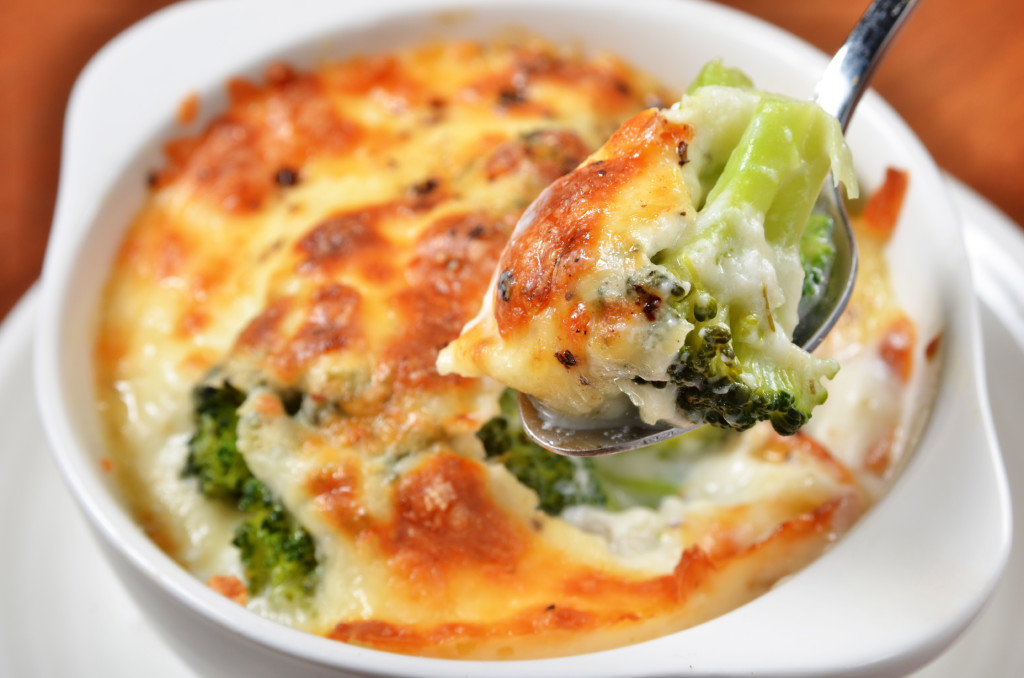 Recipe Name
Gluten free Vegetarian Gratin aux Pommes de Terre
By
Published On
Preparation Time
Cook Time
Total Time
Average Rating





Based on 1 Review(s)